[
About Us
]
AFR Insurance's roots date back to 1905 with the establishment of the membership organization, Oklahoma Farmers Union. They formed the Oklahoma Farmers Union Mutual Fire and Lightning Insurance Company to serve the rural areas and created the foundation which we have built on for more than 100 years.
As one of the oldest insurance companies in Oklahoma, we have worked hard to hold true to our traditions and history while also paving the way into the future. We strive every day to provide the best-in-class insurance products and services to our policyholders. AFRMIC is recognized as a leading domestic insurance carrier in Oklahoma and specializes in Home, Auto, Farm & Ranch, and Life insurance with a variety of coverages to cover you and whatever life throws at you.
Our customers are our neighbors and friends and we treat them as such with a fast and fair claims process. When you write your business with AFR Insurance, we understand it isn't just a piece of paper. It's our promise to you to be there when life turns upside down. We insure you so you can focus on what matters.
Our agents and employees are the heart of our company and we pride ourselves in having knowledgeable, successful and determined employees who work hard for you, our policyholders.
Over the past 100 years, we have experienced many changes and growth but our dedication to you remains grounded in our roots. We will continue to look towards the future and grow to best fulfill your needs.
Mission Statement
To provide the best-in-class insurance products and services to policyholders using leading-edge technology, trained, motivated, service-oriented employees, and community-minded agents.
Vision
To earn the position of largest and most respected rural insurance provider in the state of Oklahoma.
Values
Integrity

Boldness

Teamwork

Loyalty

Accountability

Customer Centricity

Continuous Learning

Local Community Mindedness
Address
4400 Will Rogers Parkway
Oklahoma City, OK 73108
Mailing Address
PO Box 24000
Oklahoma City, OK 73124
Phone
Local: 405-218-5400
Toll Free: 800-324-7771
Office Hours
Monday-Friday
8:00 AM - 4:45 PM

Jon Srna
President & CEO
I began my insurance industry career more than 30 years ago with Farm Bureau Financial Services as a customer service supervisor. My career encompasses tenures as business unit vice president at Farm Bureau Financial Services; executive vice president and COO at ACCC Insurance; and, most recently, senior vice president of operations and COO at Madison Mutual Insurance Company. My well-rounded industry knowledge spans claims, underwriting, sales, marketing, operations, and finance as well as a successful track record of continuous improvement initiatives and P&L leadership. I started my role as President and CEO of AFR Insurance in 2020. Whenever I'm not working, I like spending time with my family and two dogs, Bailey and Sophie.

Bernadette Autrey
CFO
Before being named Chief Financial Officer in December of 2019, I was a member of the AFR Accounting Department where I served as a Senior Accountant since 2014. Prior to joining the AFR family in 2013 where I started as a Treasury Accountant, I was an Insurance Defense Auditor for seven years with Farmers Insurance Group in Oklahoma City. All together, I have over 27 years of experience in Insurance Defense and the Accounting Industries. If I am not working, you can usually find me at a hockey rink or a dance competition watching and cheering on my grandkids.

Robson Cardoso
VP of Information Technology
As the VP of Information Technology, I have overseen the AFRMIC Information Technology department since August 2020 adding over three decades of IT experience in financial and manufacturing business, including 15 years in insurance companies like Kentucky Farm Bureau and Aflac. I earned an MBA from the University of Louisville and a Bachelor of Management Information Systems degree from FASP (Faculdades Associadas de Sao Paulo), Brazil. In my spare time I enjoy spending time with my family and my dog, traveling around the world, and exploring new places to eat!

Darin Miller
Director of Claims
I was a lifelong Nebraska resident until June of 2020 when I moved to Oklahoma to become the new Claims Director at AFR. I added the Underwriting Director role in September of 2020. Prior to joining AFR I worked at Farm Bureau Financial Services (Iowa) for 29 years with the last 5 years serving as the Catastrophe Team Manager. I have attained several industry designations including CPCU, SCLA, AIM, ARe, API, AIS, AIC and AINS. When not working I enjoy spending time with my family or playing golf.

Mark Hayhurst
Director of strategic Planning & operations
I joined as Director of Strategic Planning & Operations in October 2021. I have over 25 years of experience as an executive manager in various industries. In the roles of Army Lieutenant Colonel, Senior Program Manager, Vice President of Operations & Chief of Staff, I've been part of high-performance organizations with multi-million-dollar annual revenues and considerable invested capital. I've been responsible for both strategic business planning and international operations with the Department of Defense and Fortune-ranked companies. Faith, family, and outdoor adventures are how I recharge.

Stacy Pederson
Human Resources Director
Prior to joining the AFR team in October 2021 my professional background included a blend of experience in human resources and insurance. I have experience as an employment attorney and human resources director in Oklahoma state government. My insurance background includes 17 years in claims management, defense litigation, and general counsel work. Although I've lived in the Oklahoma City area for 27 years, I'm originally from the Finger Lakes Region of upstate New York, and I enjoy spending time in the Adirondacks in Northern New York State.

Trent Davis
Director of Pricing & Product Development
After earning my degree in Applied Mathematics from the University of Central Oklahoma, I worked in the Actuarial department at a competitor of AFR for 9 years. I made the move to AFR as a Senior Product Analyst, a role which eventually evolved into Actuary. I have been the Director of Pricing & Product Development since August of 2020. I've been in the industry for 15 years including the last 6 with AFR. Outside of work, I love to play sports and travel with my wife and son.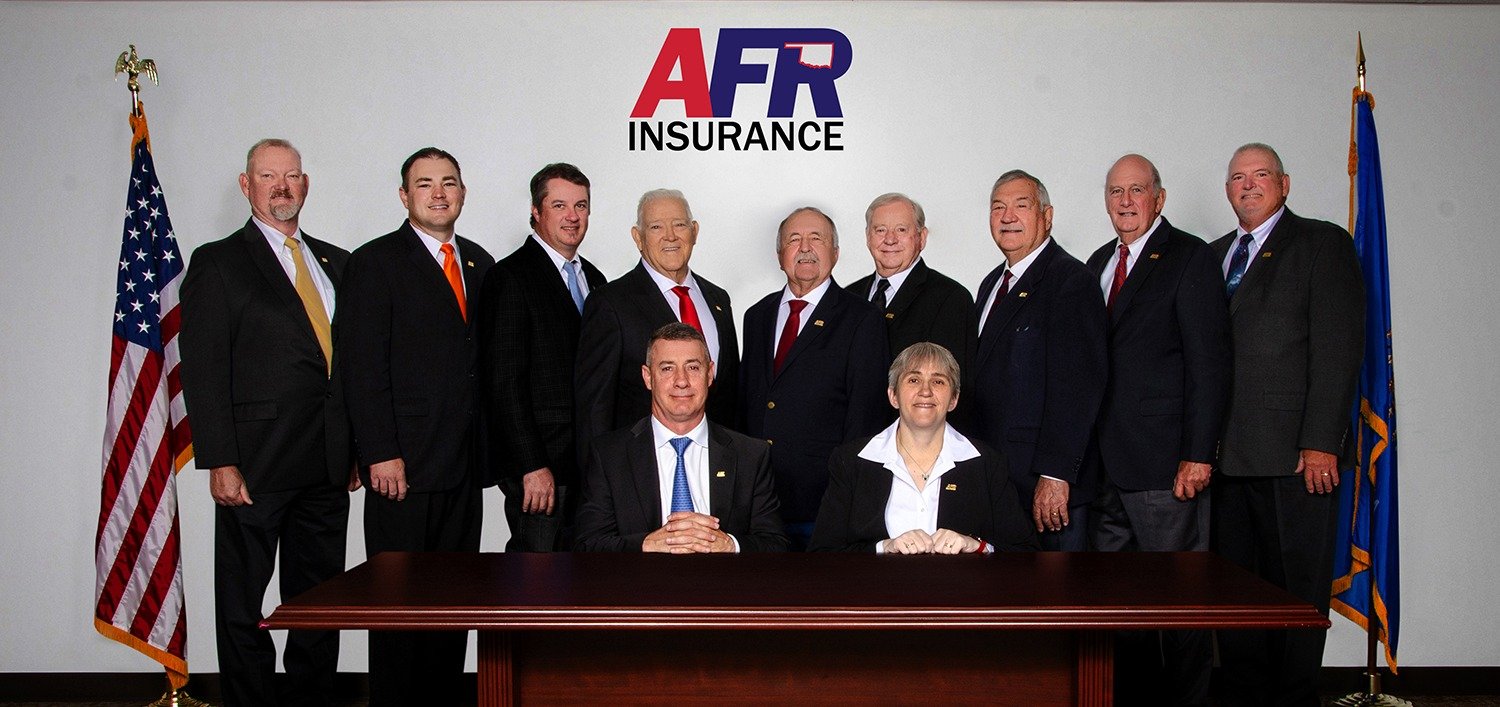 Mike Goodwin
Chairman of the Board
Mike Goodwin was raised in Mead and currently resides in Roberta. He is a lifelong resident of Bryan County. He received his bachelor's and master's degrees from Southeastern Oklahoma State University. Goodwin has spent his career as an educator in the high school classroom, as a high school principal, a school superintendent, and also as a Career Tech center administrator. Additionally, Goodwin served in the United States Army Reserves, retiring in 2016 at the rank of Command Sergeant Major with 36 years of total service. Goodwin has been a member of AFR since 1988 and currently sits on the AFR Board of Directors.

Brett Morris
Independent Director District 2
Brett Morris and his family have been involved in farming and ranching in the Ninnekah community for almost 90 years. . A former dairyman, he and his dad currently run a diversified operation which includes 1,000 acres of alfalfa, wheat and grassland, 200 beef cow/calf pairs and 100 stocker calves, as well as the Washita Fertilizer Company. Morris joined AFR in the early 1990s and is currently serving as the AFR representative on the Oklahoma Beef Council and on the AFR Board of Directors.

Jim Shelton
Independent Director District 3
Jim Shelton and his wife, Sara, live near Vinita and are lifelong residents of Craig County. In 2010, Shelton retired from a 35-year banking career with Oklahoma State Bank of Vinita to expand the cattle operation. The Sheltons operate a 3,500-acre commercial cow/calf and stocker operation. He has served on the AFR Board of Directors several times. Shelton earned a bachelor's in animal science from Oklahoma State University and is a graduate of the Southwestern Graduate School of Banking at Southern Methodist University.

Mason Mungle
Statewide Independent At-LArge Director
Mason Mungle currently serves as the AFR Statewide Independent At-Large Director and the AFRMIC board chair on the Board of Directors. Mungle has been an AFR member and insured for more than 40 years. He worked for AFR in cooperative development and legislative affairs from 1997 to 2007. Mungle earned a bachelor's and master's degree in animal science from Oklahoma State University.

John Porter
Agent Director District 1
John Porter is a third-generation full-time AFR agent; he owns Porters Insurance in Edmond. Porter attended Central State University in Edmond, where he specialized in business administration and was a member of the Oklahoma National Guard from 1965 to 1971. He was hired by Oklahoma Farmers Union as an adjuster in 1973. During a 37-plus-year career with the company, Porter worked directly with several of the company presidents in various capacities. He was elected in 2010 to the office of AFR Vice President and now serves on the AFR Board of Directors.

Dustin Tackett
Agent Director District 2
Dustin Tackett, his wife, Julie, and their son Hudson live north of Fort Cobb on the farm Tackett's grandfather bought in 1913. Tackett has been an AFR insurance agent since 2004 and has served in several capacities before sitting on the AFR Board of Directors. Tackett is a two-time Oklahoma State University graduate with a bachelor's in agricultural economics and an MBA.

John Ogden
Agent Director District 3
John Ogden, a rancher from Muskogee County, has been involved in an AFR leadership capacity for many years, including service as vice president and on the board of directors. Ogden and his wife, JoAnn, have been long-time AFR Insurance agents. They have owned and operated the Ogden Insurance Agency in Muskogee since 1976. They also owned the Ogden Insurance in Haskell and have been active in their local and Muskogee County AFR organizations. Ogden attended Connors State College and Bacone College.

Landon Jestis
Agent Director District 4
Landon Jestis is an AFR agent from Bokchito. He owns and operates Jestis Insurance Agency in Durant. He and his wife, Leandra, own 80 acres in Bokchito where they raise roping cattle and horses. He enjoys team roping and working on the ranch with his three children, Lainey, Luke and Lex. Jestis then attended Seminole State College and North Central Texas College and eventually graduated from East Central University in Ada. He accepted a position with AFR as a property claims adjuster and after four years had the opportunity to purchase his own AFR agency in September of 2015 and now serves as a director on the AFR Board.